Masked Dance Festivals of Bhutan
Bhutan's masked dance festivals, called Tsechu in the local language of Dzongka, is a tradition whose origins go back more than a thousand years into the origins of Buddhism in Bhutan. For much of Bhutan's history, monks were both the civil and religious authorities, and dances were used to educate an illiterate populace about their history and religion. The dances have been handed down from one generation to the next and remain virtually unchanged from the rites performed by the legendary Guru Rinpoche.
Each district hosts a festival once a year, on dates determined by the Tibetan lunar calendar. The festivals last from three to five days, and are attended by hundreds or even thousands of locals, depending on the festival. The major festivals of Thimphu and Paro receive as many as a thousand foreign visitors as well, so we organize our trips to coincide with some of the less visited Tsechu where the atmosphere is more traditional. Before and after the festival you can visit many of the important sites of interest in the Dragon Kingdom, from clifftop monasteries to massive Tibetan fortresses.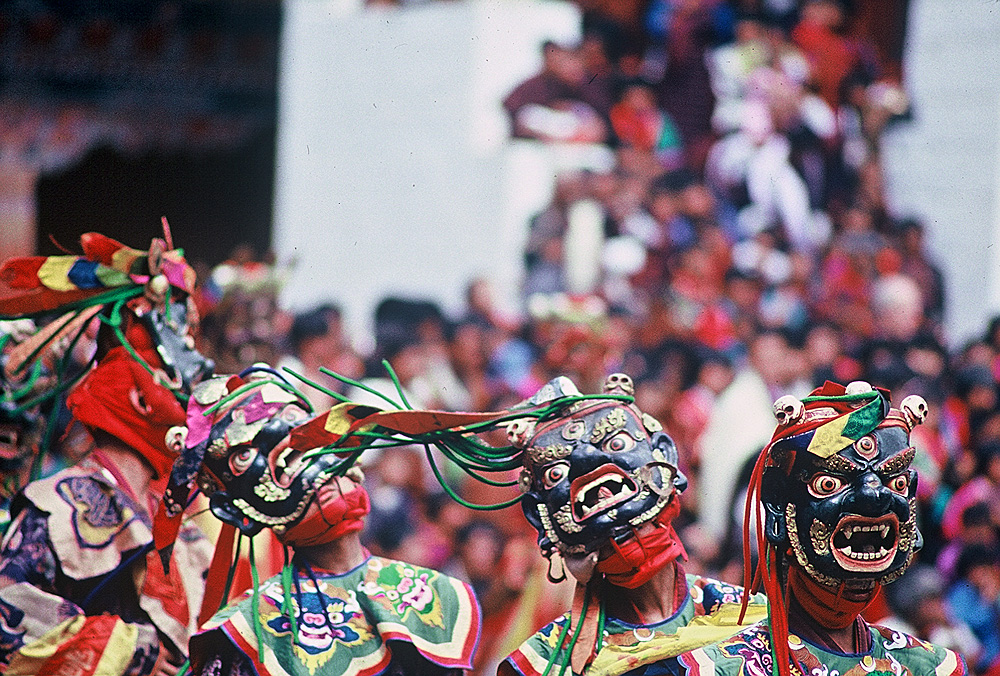 Best Months to Visit:
February, March, April, May, September, October, November, December
Highlights:
Experience a centuries old tradition
Watch the pageantry and people watch
Live like a local!
Visit an infrequently traveled valley and festival
Difficulty Range & Duration:
Non-Strenuous
An itinerary focused on attending a festival can be done in as little as 5 days and while it does not necessarily need to include strenuous activity, one should be comfortable standing for a couple hours on end and walking on uneven ground and up/down steep stone steps.
Moderate
Ranging from 6 to 10+ days. Most valleys and many of the monasteries have their own festival. These festivals are organized on a lunar schedule and each have their own rhythms and magic. The harder to reach and more remote areas have festivals that are less frequently visited — attending these festival does take more time in rustic settings, but it is worth it in terms of the unique experience!
Possible Add-Ons:
Align your dates to attend more than one festival!
Include a short trek for a Bhutan experience!
Combine this with a week in Nepal, India or elsewhere in SE Asia
Masked dance festival occur throughout most of the months each year.
Some festivals are more well known and far more frequently visited, but many of the more remote valleys and smaller monasteries have off-the-beaten-path festivals that are absolutely amazing ways to experience the Dragon Kingdom!
This option is only a sample. It can be customized to include include more than one festival, a variety of day hikes and many more customized options crafted to fit your exact dates, needs and interests!